Our CEO Speaks on Compliance and Supervision Issues at 2018 FSI
Our CEO Speaks on Compliance and Supervision Issues at 2018 FSI
When the Financial Services Institute held its 2018 OneVoice conference in Dallas, Bedford and Main was proud to be a sponsor for fourth consecutive year. Our CEO, John Foster, was especially honored to participate on a panel discussing compliance and supervision issues facing Independent Introducing Brokers.
The conference also provided new opportunities to promote Bedford and Main's expanding securities expert witness and anti-money laundering services, along with various areas of FINRA compliance support.
John noted that "The true value of the conference is the open atmosphere to interact with so many senior industry pros, all gathered to share and exchange thoughts and ideas. The only challenge is that as the list of folks I hope to re-connect with grows each year, it gets harder and harder to see everyone in a few days. That is a good problem!"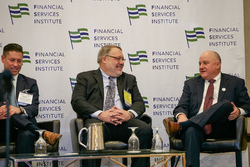 Our CEO - The Good Looking Guy in the Middle!